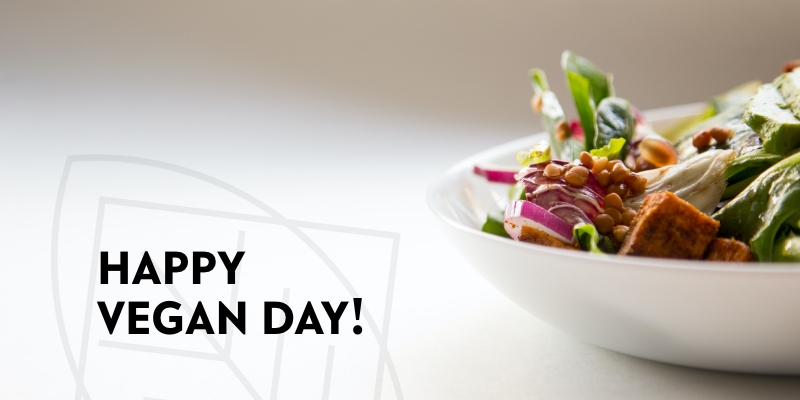 Happy Vegan Day! – Our Favourite Vegan Recipes
Happy Vegan day! – Our Favourite Vegan Recipes
It's National Vegan day! Whether you're thinking of going vegan for your health, for the animals or for the environment, being vegan certainly has a lot of benefits.
Veganism has come a long way in the last few years, with most restaurants now offering vegan items on their menus and vegan products now available in all supermarkets.
But when it comes to living an eco-friendly lifestyle, is being vegan that important?
Is being vegan better for the environment?
There are a few things to consider when we assess whether or nothing vegan is better for the environment.
According to the UN, meat and dairy accounts for 14.5% of all man made greenhouse gas emissions. That's almost the same amount of emissions of every car, train, plane and ship on the planet!
And according to a 2016 report from the Oxford Martin Programme on the Future of Food, if we all went vegan, food related emissions would drop 70% by 2050.
With these startling figures, going vegan seems like a no brainer.
But vegan food doesn't have a completely zero carbon footprint. Foods like soya and avocados have been linked to deforestation and huge amounts of resources like water and transportation are needed to produce popular vegan foods.
However, these impacts are hard to avoid and according to researchers with Loma Linda University in California, a vegan's carbon footprint is 50% smaller than a non-vegan.
Overall, it seems that even if you decide not to go fully vegan, taking meat and dairy out of your diet at least partially, can have a huge benefit on the environment.
Is wasting food bad for the environment, even if it's vegan?
Food waste is a huge contributor to climate change. In fact, 36 million tonnes of greenhouse gas emissions could be prevented if UK homes saved their food from the bins, according to Love Food Hate Waste.
This is the case for vegan food too, as all foods release methane which is a greenhouse gas that harms our environment.
On top of reducing our meat and dairy intake, it's important that we use all the food we buy and not send any food to landfill.
So, here are some quick and easy vegan recipes you can make at home. In some recipes, you can even use leftover veg to help reduce your carbon footprint.
Vegetable curry
Curry is one of the easiest meals to make and making it vegan is even easier! This veg curry even uses scraps of your leftover veg, reducing your overall food waste!
Spicy pumpkin soup
A warm and comforting meal in a bowl. An autumn favourite, this recipe uses loads of leftover vegetables.
It's a quick and easy recipe that can even be frozen to last even longer.
Vegan bread and butter pudding
Sliced bread is one of the most common foods that is thrown away. Instead of throwing away the crusts, try this amazing bread and butter pudding recipe and it's vegan!
It's simple and perfect for this time of year!
Vegan chilli
What's great about this recipe, is that you probably have most of the ingredients already in your pantry!
This recipe is easy, quick and feeds the whole family using low cost ingredients.
Vegan pancakes
These American style pancakes are perfect for weekend mornings with the family. You can even use vegan chocolate chips, blueberries or maple syrup to take these delicious pancakes to the next level!
Sticky tofu bowl
This recipe takes just 30 minutes and it's a family favourite. Vegan food has come a long way in the last few years, and now what started off as simple, boring, recipes have turned into exciting and fun ways to enjoy vegan food.
This sticky tofu bowl is simple and delicious.
Whatever your reason for trying vegan food, we hope you enjoy our favourite vegan recipes.
Happy Vegan Day!