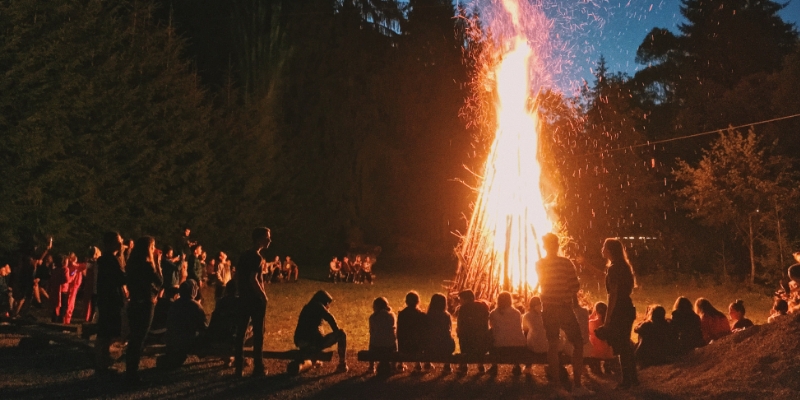 Have an eco-friendly bonfire night
The words eco-friendly and bonfire night almost seem like a juxtaposition and whilst burning wood and setting off fireworks aren't exactly climate friendly, there are ways you can celebrate in a fun and a more eco-friendly way.
What is bonfire night?
Sometimes referred to as bonfire night or Guy Fawkes night, is a holiday celebrated in Great Britain on 5th November. The event commemorates the failed plot to assassinate King James I and his parliament in 1605. To celebrate the King surviving, people lit bonfires around London. The day eventually became a public holiday.
In the same tradition as they did in 1605, people today light bonfires and set off fireworks.
Is it possible to have an eco-friendly bonfire night?
Bonfires aren't exactly eco-friendly. Burning wood emits more carbon dioxide than gas or coal. On top of this, it can take years and even decades to regrow the trees that were chopped down to be used in our bonfires.
Although it's hard to have a traditional bonfire night that is eco-friendly, there are ways in which you can celebrate in a fun and a more eco-friendly way.
1. Go to an organised fireworks display and bonfire
Ok, it's not exactly eco-friendly, but by reducing the amount of bonfires and fireworks, you will be helping to reduce the amount of carbon dioxide released into the atmosphere.
Fireworks aren't exactly eco-friendly either. But by attending organised displays, you're reducing the amount of waste and litter that is left behind by fireworks.
2. Use eco sparklers and fireworks
Relatively new to the market, you can now get eco sparklers. The sparklers burn down to nothing and leave you with a biodegradable wooden stick. They also emit less smoke than traditional sparklers and don't use metal which won't biodegrade and can't be recycled.
Eco sparklers are available online and they're reasonably priced which makes them great for bonfire night.
It's really important to follow the safety information that comes with the sparklers. Make sure to use them outside and supervise children.
Ecotricity also has a great post on how to have an eco-friendly bonfire night and states that "white coloured fireworks will have fewer harmful chemicals" than others.
3. Make honeycomb
Honeycomb (or cinder toffee) is surprisingly easy to make and it is really fun to make. It makes a great snack to take with you to an organised bonfire or fireworks display.
It does require some care and attention, but the end result is completely worth it.
All you need is caster sugar, bicarbonate of soda, and golden syrup.
BBC Good Food has a great recipe that's easy to follow to make homemade honeycomb.
4. Look out for local wildlife and pets
Although not the traditional bonfire night celebrations, making a hedgehog home or hiding spots in your garden is a great way to help support our wildlife or the local pets.
Bonfires often attract small animals so it's important to check bonfires before lighting them. Bonfire night is a great reminder for us to help protect our wildlife from harm.
The Wildlife Trust has a great guide on how to build a hedgehog home.
5. Make toffee apples
Toffee apples are a staple treat for autumn and an excellent activity for you and the family.
All you need are apples, caster sugar, golden syrup and vinegar (plus sprinkles for decoration).
Visit your local market to find some locally sourced apples (we use granny smith, but any type will work just fine).
BBC Good food has a great guide on how to make the best toffee apples for your bonfire night celebrations.
If you're not a fan of toffee, you can also make chocolate apples. All you need is some milk chocolate!
6. Take part in a litter pick
Bonfire night causes a lot of litter. From fireworks to food and drink left behind at bonfires, there's likely to be a lot of rubbish left.
There are loads of litter picking groups already established across the country. Clean Up UK has details of groups you can join to help clear up our planet. 
Have a safe and eco-friendly bonfire night!