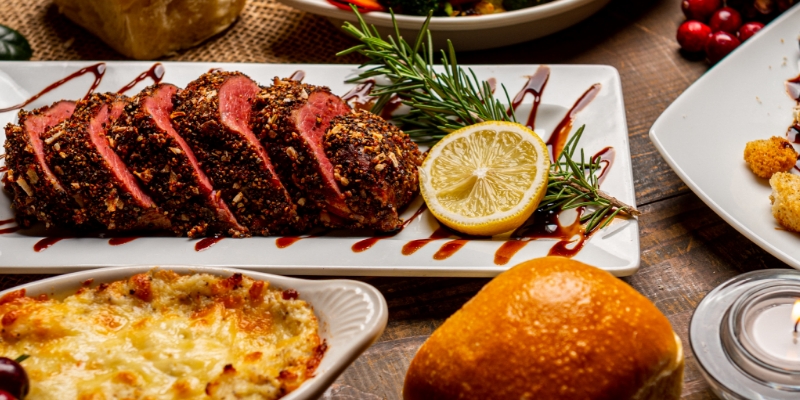 6 ways to reduce your food waste this festive season
Christmas can be a time of over indulging. When it comes to food, an astounding 7 million tonnes of food goes to waste at Christmas alone. Those 7 million tonnes come from, 2 million turkeys, 5 million Christmas puddings, and 74 million mince pies all going to waste, causing almost 270,000 tons of food waste in total during this widely celebrated holiday.
Why is food waste a problem?
Food waste is a huge contributor to climate change. In fact, 36 million tonnes of greenhouse gas emissions could be prevented if UK homes saved their food from the bins, according to Love Food Hate Waste. At Christmas, food waste is an especially big problem, with many of us buying more food than we need and throwing so much in the bin.
This food ends up in our landfill sites and creates a huge amount of methane, a greenhouse gas that is damaging our planet.
On top of this, it takes a huge amount of resources to grow and transport our food to us to buy. So, when we throw food in the bin, all of the water and other resources that go into producing our food are all wasted. Some food is transported to us from across the globe, so the amount of fuel used is also wasted when your food ends up in the bin.
However, there are some really easy and simple steps we can take to reduce the amount we waste.
Here are 6 ways you can reduce your food waste this Christmas:
Make a shopping list and stick to it!
Large supermarkets make Christmas food look so appealing, and it can be hard not to get distracted by offers and new products. By making a shopping list and actually sticking to it, you can reduce the amount you buy unnecessarily.
Check the cupboard
Check your cupboards before you go shopping chances are, you probably have some of the ingredients you need for a delicious Christmas dinner already. Make sure you check your cupboards and freezer before you go shopping to avoid buying items you don't need and already have.
Check the dates on your food
Make sure to check the food you're buying won't be out of date before Christmas. Do you know the difference between use by and best before on food labels? Well, a use-by date relates to food safety, whereas a best before date relates to food quality. This means that food labeled best before won't necessarily be bad if they're eaten after the day shown. Always check the label on your food before consuming it. Food Standards Agency has lots of tips and advice on food labelling, avoiding food waste and storing food.
Use up your leftovers!
Creating new dishes from your leftovers is a great way to reduce your food waste and avoid your food going to landfill. BBC good food have tons of recipes to use up all of the trimmings from your Christmas dinner. We absolutely love the spicy turkey noodles and the cheeseboard macaroni cheese recipes!
Don't cook everything!
If you find that you've bought way too much, remember that you don't need to cook everything for the sake of it. You can put some dishes in the freezer and enjoy them at a later date. Most dishes will be freezer friendly, but always check the label first.
Donate some food to your local food bank
The Trussell Trust gave out 1.3 million emergency food parcels between April and September 2022, that figure was up by a third from the previous year. Sadly, there are still many people living in poverty and Christmas is a difficult time for many people. The Trussell Trust have food bank locations across the country and many need donations. If you find that you've bought too much or you're able to contribute anything, please consider donating to your local food bank.
We hope you have a very merry Christmas!