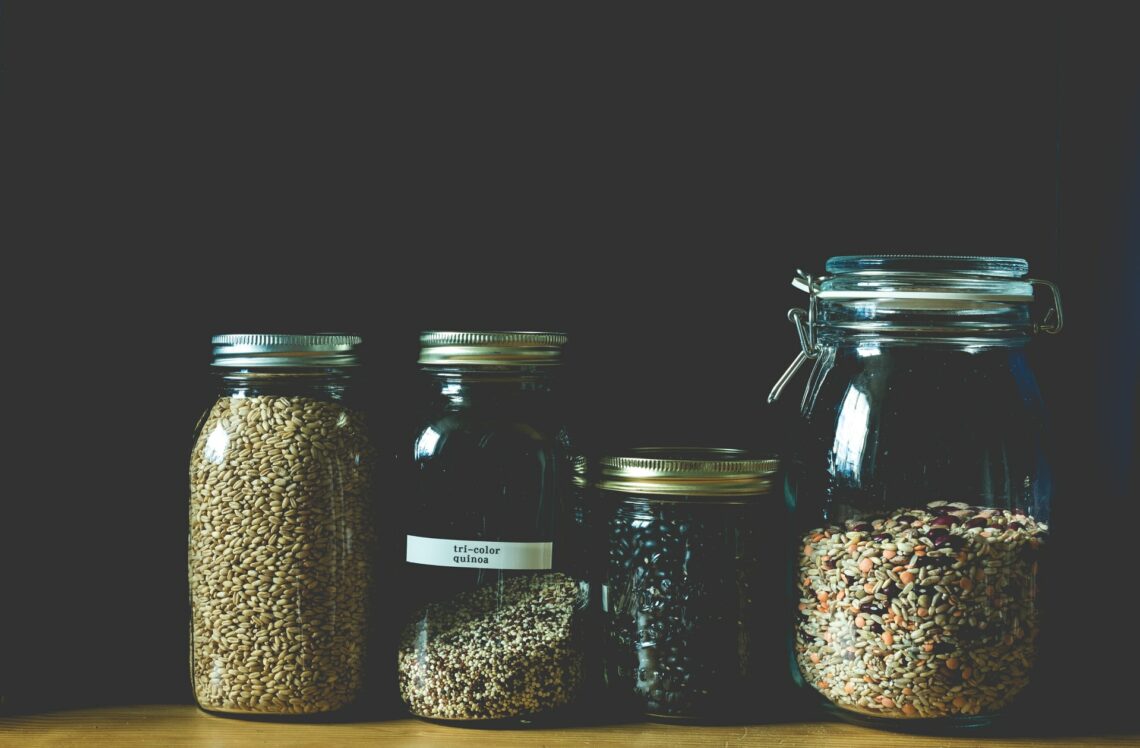 Spring cleaning? Here's the eco-friendly way!
The sun is out, and we feel the need to spring clean! Open all of the windows to let the fresh air in, enjoy the first flowers coming through and finally try to organise our lives.
As with all home projects our first instinct was to consult our friends, family and of course the internet for advice on how to tackle the big cleaning project. Unfortunately, a lot of recommendations online seem to revolve around buying new organisational systems, throwing out or donating things you no longer need and covering everything in bleach.
This led us to thinking there must be a way to get that fresh start feeling to spring without resorting to harsh cleaning methods or creating a lot of extra waste for landfill.
Cleaning out the cupboards
Spring cleaning the kitchen always makes the space feel new. Even if your kitchen is on the older side a reorganisation can make it feel like new.
There's a huge trend at the moment to organise your home into clear plastic containers, this lets you see what you have and it creates a look that is undoubtedly aesthetically pleasing. The only problem with this is that we'd be rushing out to buy containers, where if you're anything like us you have containers ready to be used at home.
It's the eco-conscious stereotype that you have a cupboard or drawer filled with glass jars. These are perfect containers ready and waiting to be used for organising. Pasta sauce jars can hold tea or coffee and you can decorate them with tape or chalk paint to match your kitchen counters.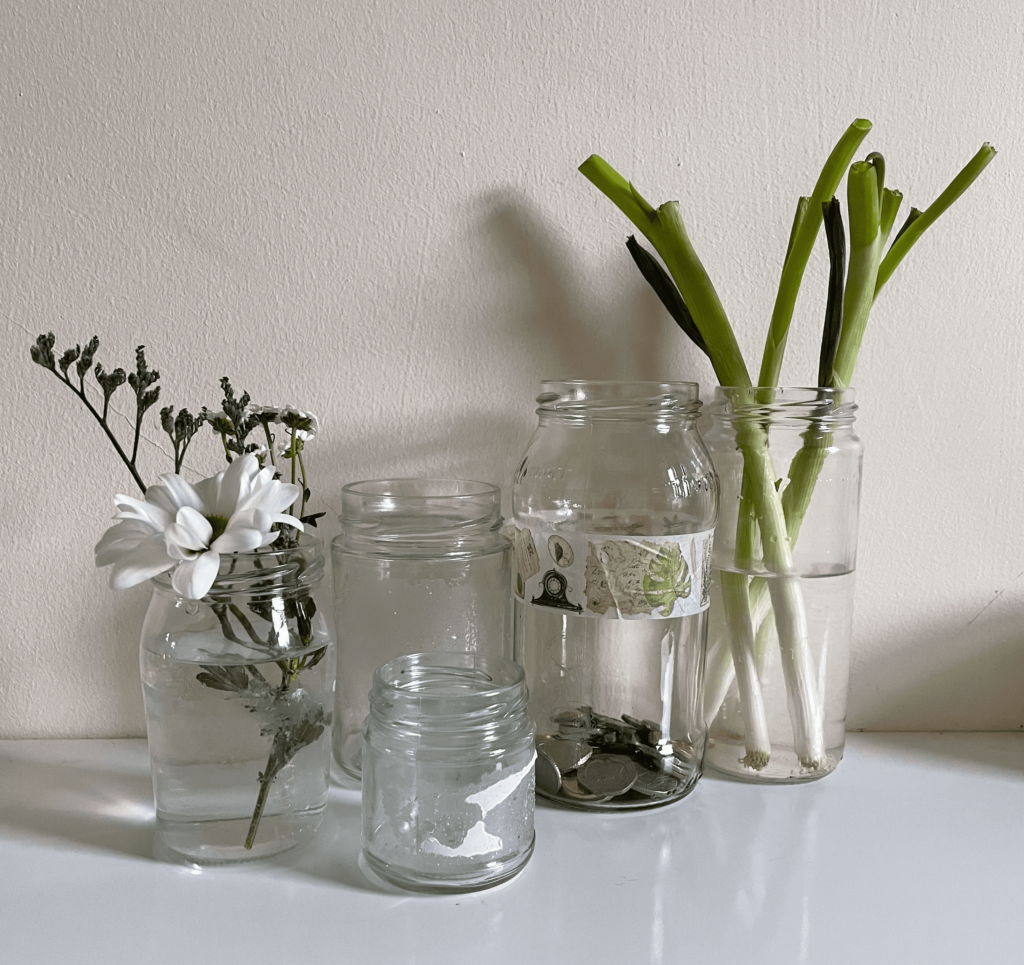 Jam jars are perfect for storing chopped vegetables in the fridge, it saves time on food prep and you can see how much you have left to use.
Smaller jars are perfect for storing spice mixes so you've always got the perfect blend on hand. All of these can be done without purchasing more containers or even leaving the house.
Cleaning the microwave
Staying in the kitchen, if you've opened your microwave and thought it needs a good clean we have a quick and eco-friendly hack.
If you have a leftover lemon, that you bought with the best intentions, you have the perfect thing to clean your microwave.
Roll the lemon around on a flat surface to release more of the juice.
Chop the lemon into quarters and add it to a bowl of water. Make sure the bowl you add the lemon and water to is microwave safe.
Microwave the lemon and water on high for three minutes or until the water starts to boil. Don't walk off while this is happening, you don't want the water to bubble over the bowl.
Once the timer is up, leave the microwave door shut to allow the steam to loosen any stains in the microwave. For more stubborn stains leave the door closed a bit longer but you still want the steam to be warm to allow for easy cleaning.
Wipe down the inside of the microwave with a cloth or stiff sponge for more stubborn stains.
Ta-da! A fresh smelling microwave cleaned with all natural ingredients you have in the home and your kitchen will smell lemony for the rest of the day too.
Declutter the living room
The final part of the spring clean is often parting with things that no longer serve your purpose or style. If you're walking through the front door and feel like you're inundated with clutter then it's time for a spring reshuffle. Go round the room and see what no longer suits your life or the specific room and set it to one side to rehome.
We caution you from thinking that donating things to charity is the solution to your clutter problems.
Taking the problem of clothing donations, in the UK our shopping habit creates as much carbon emissions as flying around the world 900 times per month. This means that the market is so saturated with clothing that most people unfortunately will not go to charity shops to find their next outfit. If the shop can't sell it, then they can't afford to let it sit there forever. In the best case scenario it will be recycled, in the worst case it will go to landfill.
A charity shop is a business, it cannot afford to have deadstock sitting on shelves. It might be clothes, it might be books or bric-a-brac but if you don't want it, or if it's broken, think about giving it a new lease of life before donating.
Repaint the vase that doesn't go right in the living room to see if it will match the bedroom. Embroider the plain cushions you have to create a fresh new look. Bought an old painting you don't like? Paint over the top of it to create a unique piece of art for your home: the old masters did it so can you.
If there's no way to make your things match your new look, see if you can sell that vase to someone who really wants it to save it from landfill. Pass it on to friends and family that can give it a good home. If after all of that and you still can't rehome your old things it's time to consider a charity shop donation. Find a cause you're passionate about and ask the volunteers what they do with things they can't sell to make sure their values match yours.
Reduce, Reuse and Recycle
The old principals are the best. The solution to spring cleaning the eco-friendly way is to think about what you already have and use that before making a purchase. There's no need to run out to the shops to buy the latest cleaning products if you already have something to use at home, even if what you have at home isn't "the green choice" it's far more plant friendly to use that up before buying new.
Looking for storage solutions? Repurpose baskets and boxes you already have. Looking for bathroom storage? Break out the jars you've already got at home, we know from experience a cleaned up douwe egberts coffee jar is perfect for storing cotton rounds.
It might sound repetitive but that's because being eco-friendly is. To be eco-conscious or eco-minimalist the point is to use what you already have. That means saving glass jars, repairing baskets and boxes to make the cute storage solutions you see on instagram rather than buying the latest style.
For more information about reduce, reuse and recycling read our guide on going beyond these three core principles. If you're tackling the spring cleaning this weekend we hope you keep these principals in mind and spring clean the eco-friendly way.