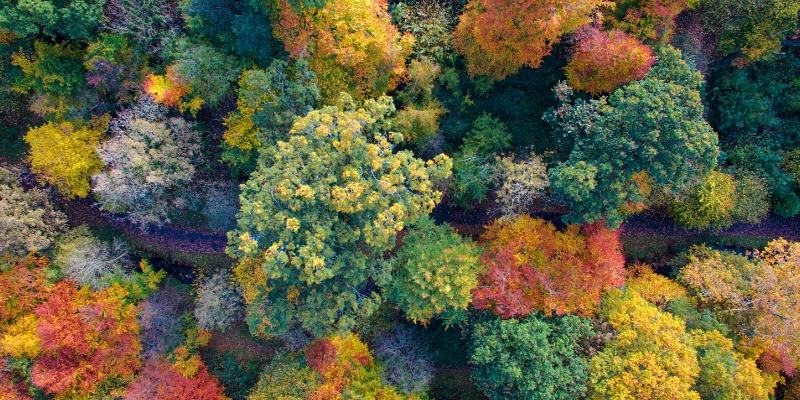 Join us by taking part in National Tree Week!
It's National Tree Week! From 26 November to 5 December, Be More Eco is celebrating National Tree Week by pledging to plant trees to help tackle climate change.
At Be More Eco, we pride ourselves in being an eco-friendly company from the inside out. We want to help you total small actions to live a more sustainable life. This mission goes for us too. We pride ourselves in being a climate conscious company and we're proud to say that we have a zero carbon footprint.
But we know there is always more we can do to become more eco-friendly and help tackle climate change.
To mark the start of tree planting season in the UK, pledging to plant more trees as part of National Tree Week. Trees are heroes of nature, by protecting wildlife, creating oxygen and purifying our air, they're crucial to our survival.
What is the importance of trees?
Trees are vital to our survival on earth. Without them, it's likely we wouldn't be here at all! Trees produce oxygen which we breathe, support our wildlife and store carbon.
They help improve your health
Not only are they vital for the environment, they also have great health benefits for us! They make the air we breathe cleaner. Trees actually act as a filter, collecting dust and absorbing pollutants. In fact, each tree removes up to 1.7 kilos every year. They also provide natural solar protection for us, giving us shade to cool off in the hot weather.
Research has also shown that just being in the presence of trees helps lower blood pressure and relieve stress.
On top of this, certain types of trees have medicinal properties, too!
They're great for the wildlife
Young trees are crucial for wildlife. They provide food and habitats for birds, insects and fungi. Older or ancient trees are great for bats, owls and woodpeckers. Their hollow trunks provide safe habitats for them to survive and thrive.
In fact, one mature oak can be home to as many as 500 different species!
They even improve the economy
According to research undertaken by Royal Parks, average house prices are 5-18% higher when properties are close to mature trees! People are more likely to live, work and visit areas that have green areas with trees.
On top of this, workplaces with access to green areas have a happier and more productive workforce.
They're crucial in our fight to tackle climate change
As mentioned, trees naturally store carbon which helps rid our environment of any excesses. One of the main issues with our climate crisis is the amount of carbon dioxide we are producing.
By planting more trees and creating more forests, trees can help us to absorb large amounts of carbon and help us halt the effects of climate change on our planet.
Trees not only store carbon for centuries, they also help reduce flooding, which is a huge issue for parts of the United Kingdom. In cities, they help reduce pollution by absorbing pollutants and reducing the city temperature, especially in hot weather.
Join us by taking part in National Tree Week
It's incredibly important that we plant more trees to help make a difference to the environment, but we also need to protect the trees we already have. According to the Woodland Trust, 1,225 ancient woods are under threat by development right now.
Join us by taking part in National Tree Week to help protect our existing trees and plant new ones.
If you would like to take part in National Tree Week, you can do so by visiting www.treecouncil.org.uk or you can help us to expand our forest by "giving more impact" or set up your own Ecologi forest.
🌲 Happy National Tree Week! 🌲